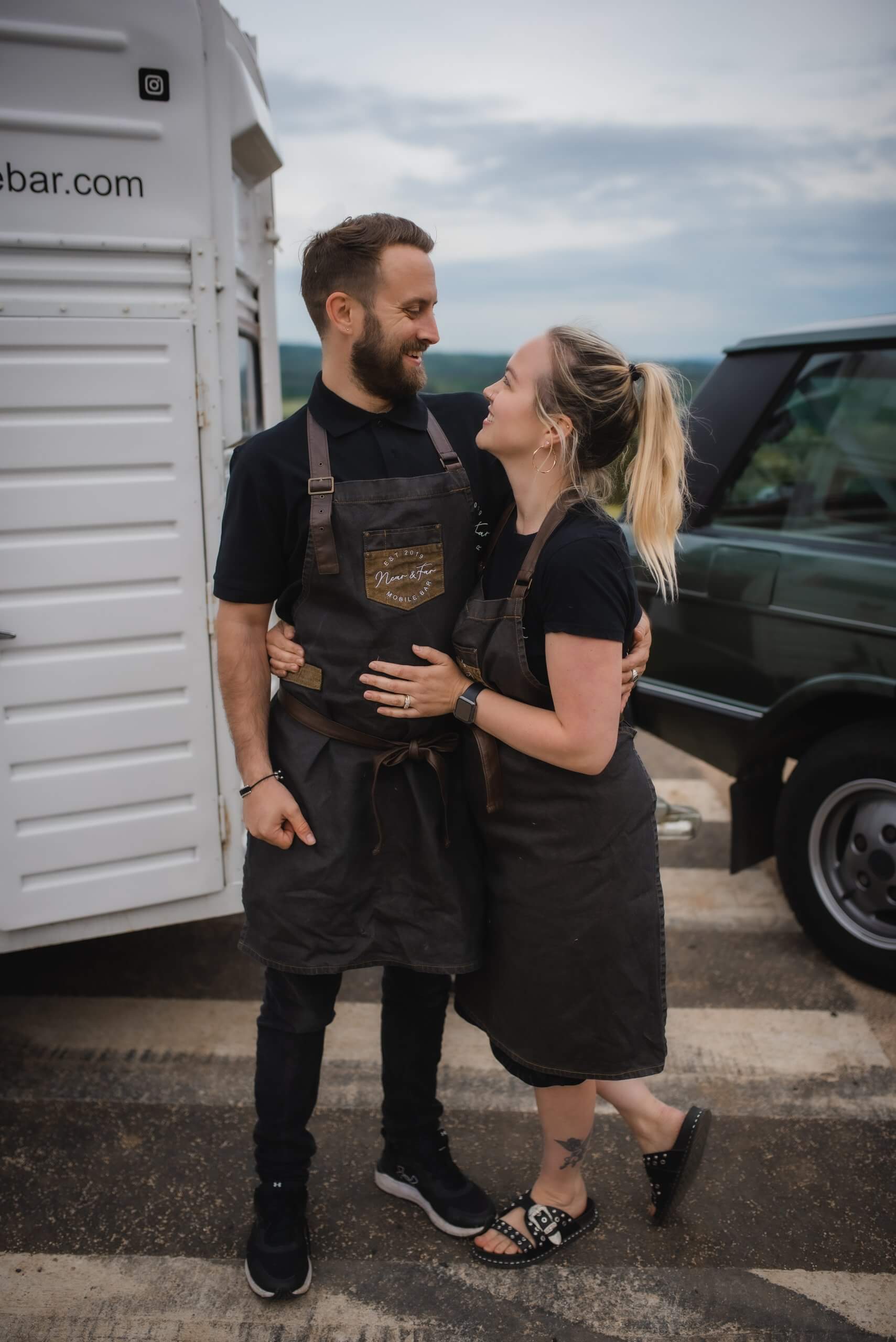 About Our Bar
Thank-you for considering Near and Far Mobile Bar for your special occasion/event. As a Husband & Wife partnership it really does mean the world to us!
So here is a little bit about us and about our bar and where it all started.
We are Lissie & Matt, Husband & Wife owners of Near and Far Mobile Bar, Dog Parents to Eddie & Lola and Parents to our miracle children, Oakley and Autumn-Rose.
Our dream to own a bar has been something we had considered for quite some time but alongside building a family our dream kept being pushed to the side to make way for other things. However, In Summer 2018 we attended a very dear friend's wedding and whilst standing in the Sunshine sipping on some bubbles we started to discuss owning our own bar once again and there began a lot of research in to how we could make it happen.
It was there, stood in the sunshine we decided we would covert a horsebox. With a love for upcycling, recycling and repurposing we wanted to create something beautiful from something that could have a new lease of life.
Near & Far Bar Horsebox is created from a Beaufort Rice Horse Box. Our Horsebox started life in London transporting horses and dating back to 1930's. Our trailer was found in a field, unused and unloved. The trailer has been completely renovated being stripped inside and out turning from what was a dilapidated sad looking trailer in to a classy, premium cocktail bar. Matt and I chose everything on our Horsebox down to the plug sockets and SO much love, care and craftsmanship has been taken to make this beautiful conversion a reality. With the help of our followers in 2021 we lovingly named our horsebox Vera-Lynn. Playing homage to her London routes.
Since we established Near and Far Mobile Bar we have had the opportunity to attend all kinds of celebrations; from 500+ people festivals to weddings and more intimate in-home Bottomless Brunches. We love being able to share our premium bar experience with as many people as we can...and what better way than having a bar on wheels!
Due to popular demand, in 2019 we launched our Oliver Twist Pop-Up Bar which is the perfect addition for any indoor event. Our bar has been loving made by Matt who designed it himself to be exactly what we want for our events! Our pop-up bar also features a double fridge so we can keep your drinks icy cool!
In March 2020 only 1 year and 1 month after we established as a business the Covid-19 pandemic struck and as a business we were forced to cancel an entire season's worth of weddings, parties and events. For a few months we were stumped as to how to keep our business going and how to keep the momentum we had built up in full flow when the world was shutting down.
It was during a family zoom, with support from our family that we would start cocktail deliveries in the local area to try and keep everything ticking along. I applied for a Premises Licence and put the feelers out to the local community to see if this was something that was needed…
And the local community clearly had missed having a "proper drink". In the height of the pandemic, with help from our family were delivering 50+ boxes a weekend to local addresses. We had full days in the car with our littles in tow delivering to our wonderful Customers. We really couldn't have predicted the exposure that would then lead to. Very quickly we realised we needed to think bigger as we were getting requests to send cocktails as gifts to people, and as such our online shop on our website was born.
Off the back of our deliveries and online ordering platform we have been fully booked every date we have been open since restrictions were removed, initially launching our Bottomless Brunches when the rule of 6 was in place and then moving on to bigger events & weddings.
To see our dream growing, really is a dream come true and our dream is to share our passion for good quality drinks, exceptional customer service & having a good time as far and wide as we can!
If you have an event you need a bar for and you would like discuss how we can help you on your special day please get in touch, we would love to hear from you
Contact Us
We would love to hear more about your event!