O
Our Recommended Suppliers have been carefully chosen by us as we know how vital it is to have the best suppliers to help your special event go off without a hitch! Over the years we have made some amazing relationships with some incredibly talented suppliers that started out as recommended suppliers to us. We have had the pleasure of getting to work with them and work with them on a personal level.
We have featured all of our Recommended Suppliers for all areas of event planning from Event Styling, Flowers and Photography to Catering, Venues & Bridal Wear. We truly believe the Recommended Suppliers we are featuring with you are the best out there… So, to take some of the hassle out of organising your event, here they all are!
Event Styling
Belles and Bubbles Hire and Events are a family run business based in Farnborough Hampshire, covering the home counties.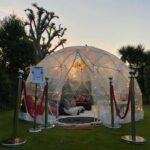 We provide beautifully decorated Bell Tents and Indoor Wigwams for home sleepovers, transparent Igloo Domes, indoor and outdoor picnic packages, cinema packages, LED light cubes and hot tubs. We deliver, prepare and decorate all for you, so you can relax and enjoy your event or special occasion knowing that we will take care of everything.​All you have to do is turn up!"
Contact: Cara
Tel:  07838208965
Instagram:  @bellesandbubbleshire
Facebook: www.facebook.com/bellesandbubbleshire
Website: www.bellesandbubbles.co.uk
Email: Bellesandbubbles@outlook.com
Instagram: @teamsignatureco
Website: www.signatureco.co.uk
Event/Wedding Styling / Florist / Prop Hire/ Boho Picnic Styling
Instagram: @2littlebirds_
Website: www.twolittlebirdsweddings.com
Email: Lynseylevey@twolittlebridsweddings.com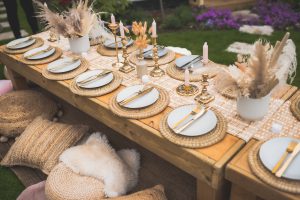 Event Equipment Hire
Family-run event and catering equipment hire company. Specialising in events, weddings, parties, equipment for catering and more!

Tel: 01276 856440
Instagram: @ab_hire_event
Facebook: www.facebook.com/abeventhire
Website: https://www.abeventhire.co.uk
Email: sales@abhire.com
Grizzly Bear Events rent outdoor event equipment across the South-east. Hiring ultra silent generators, fridge trailers, marquee heaters and outdoor lighting for weddings, parties, festivals and special occasions. We aim to make rental as simple and straight forward as possible by offering all inclusive weekend packages with no hidden costs.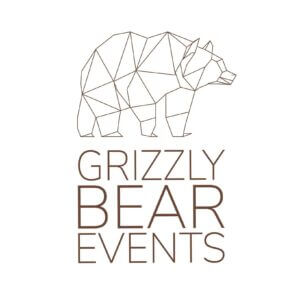 Contact: Ben
Tel: 07907497628 / 01403 586040
Instagram: @grizzlybearevents
Facebook: www.facebook.com/grizzlybearevents
Website: https://grizzlybearevents.co.uk
Email: ben@grizzlybearevents.co.uk
Event Hire Specialists. Specialising in china, glassware, cutlery, charger plates, furniture, linen, serving equipment, kitchen and catering equipment.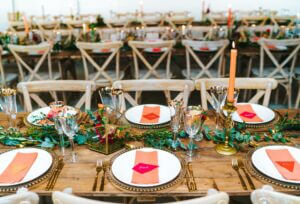 Tel: 01252 314779
Instagram: @Crystalhireltd
Facebook: www.facebook.com/crystal-hire-ltd
Website: www.crystalhire.com
Email: info@crystalhire.com
Entertainment
Rose Event Nannies provide bespoke childcare and mobile crèches for your events. Our excellent nannies and play set ups can visit your festivals, weddings, corporate events, garden parties and much more! As an experienced nanny, I understand how important it is that you know you are leaving your children in trustworthy hands. We ensure your little ones are safe, happy and having lots of fun while you relax & enjoy yourselves. Contact us today to receive a tailored quote. We can't wait to hear from you!
Tel:07769944485
Instagram: @roseeventnannies
Website: https://www.roseeventnannies.co.uk
Email: roseeventnannies@gmail.com
Little Panda Soft Play provide luxury play equipment for mini VIPs. Whether you have a large hall to fill or just a living room, they have something for everyone! Little Panda can help with garden parties, weddings, playgroups and much more. Check out the website to see our full range and to book!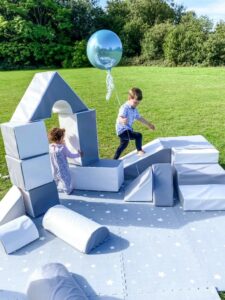 Instagram: @littlepandasoftplay
Facebook: www.facebook.com/littlepandasoftplay
Website: www.littlepandasoftplay.co.uk
Photography
"We photograph weddings in an honest, relaxed and candid way. We're aiming to give you a proper document of what happened on your wedding day. We love great natural light and intimacy in our images. All of the work you see in our portfolio has been achieved by finding a real connection with our couples, making them feel comfortable, and making sure they don't feel awkward.
We work in a very documentary and story-telling way, hoping you barely notice we're even there. We prefer not to limit to hours, because we want to tell your full story, not just up to the first dance. We hope to give you images that make you feel, not just see. We're currently based in Cornwall, photographing weddings across the UK and beyond."
Instagram: @thespringles
Facebook: www.facebook.com/thespringles
Website: www.thespringles.com
Email: hello@thespringles.com
"Photographing weddings with a candid, story telling approach. I want to provide you with a collection of images with feeling, that document your day from the start, all the way to the very end.
Using a non traditional approach and romantic style to document your day. I have what I believe is the best job in the world.
Providing a fun, relaxed approach to capturing your day. There's no cheesy, stiff or posed awkwardness here. Just natural, candid imagery to represent you both perfectly.
All of the work within the gallery has been documented truthfully. Showing the real connection my couples have. In addition to including the intimate moments and those memorable dance floor antics! You're probably not used to being followed around with a camera. So, I like to use an un-obtrusive style to document your day. Therefore, allowing you to sit back, relax and let the day unfold."
Instagram: @jessicalilyphotography
Facebook: www.facebook.com/jldaviesphotography
Website: www.jessicalilyphotography.com
Email: jldaviesphotography@gmail.com
"Hi, I'm Dan! The owner of Daniel Robinson Photography. I am a husband to my beautiful wife Charlotte and a father to my amazing two sons Thomas and Christopher. These three people are the driving force to everything I do in my life, I am just so lucky to have them.
Photography is a major part of my life, I truly love it and always have, ever since a young age. It all truly started for me by taking photos of my children as they grew up, which then led onto taking photos for other people, their children and even their beloved pets! The feeling of providing people with cherished memories that they can look back on forever, is a feeling I can only describe as – MAGIC.
All in all, I am a very chilled guy who enjoys the simple things in life. Come say Hi if I'm at a event with Near and Far Mobile Bar! I love collaborating with different suppliers too it's always such fun!"
Tel: 07796688420
Instagram: @danielrobinsonphotography
Facebook: www.facebook.com/danielrobinsonphotographer
Website: www.danielrobinsonphotography.co.uk
Email: dan@danielrobinsonphotography.co.uk
Videography
"Ground Films is an Award Winning English cinematic wedding video making company established in Southampton, Hampshire and now living in Arundel, West Sussex.
James Ground has produced high quality cinematic wedding videos and promotional videos that promote, share, cherish and tell a story about some fantastic people and their life stories"
Tel: 07415 123031
Instagram: @ground.films
Facebook: www.facebook.com/groundfilmsuk
Website: www.groundfilms.com
Email: info@groundfilms.com
Instagram: @osvisual
Website: www.osvisual.co.uk
Cake
Contact: Vanessa Albury
Instagram: @Forever_cakes_weddings
Tel: 01420 544403
Website: www.forever-cakes.co.uk
Email: hello@forevercakecreations.co.uk
Florists
Contact: Kate Osborne
Instagram: @thegorgeousflowercompany
Tel: 01403 700165 / 07747 697068
Website: www.thegorgeousflowercompany.co.uk
Event/Wedding Styling / Florist / Prop Hire/ Boho Picnic Styling
Instagram: @2littlebirds_
Website: www.twolittlebirdsweddings.com
Email: Lynseylevey@twolittlebridsweddings.com
Bridal Wear
Instagram: @thefarnhamboutiquebridal
Website: www.thefarnhamboutique.com
Instagram: @missbushbridal
Website: www.missbush.co.uk
Wedding Planners
Instagram: @chloejordanweddingsandevents
Website: www.chloejordanweddings.co.uk
Lorna Reeves (Dedicated to LGBT+ Weddings)
Instagram: @myohmyweddings
Website: www.myohmyweddings.com
Beauty
Melissa Oldridge (Make-up & Hair)
Instagram: @melissaoldridge
Website: www.melissaoldridgebridal.com
Instagram: @ellejcartermakeup
Website: www.ellejcartermakeup.com
Instagram: @allureaestheticsrhian
Website: www.allure-aesthetic.com
Beauty salon in Aldershot specialising in Lashes, Brows & Nails
Contact: Justine
Instagram: @justlovebeauty.co.uk
Website: www.justlovebeauty.co.uk
Nail Tech & Nail Artist
Contact: Kirstan Hart
Instagram: @Nailhart_
Hair
Instagram: @Hairbygair
Email: al_gair@hotmail.com
Instagram: @sarahclancy_hairstylist
Facebook: www.facebook.com/sarahclancyhairstylist
Awesome Wedding Venues
Instagram: @Blankcanvasweddings
Website: www.blankcanvasweddings.co.uk
Northbrook Park Weddings (Farnham)
Instagram: @northbrookparkweddings
Website: www.harbourhotels.co.uk/northbrook-park
Fiesta Fields offer a curated selection of beautiful field venues across Surrey and Sussex.
Canvas & Light  offer stunning cream canvas tipis to create beautiful event spaces.
Instagram: @fiesta.fields & @wearecanvasandlight
Website: www.fiestafields.co.uk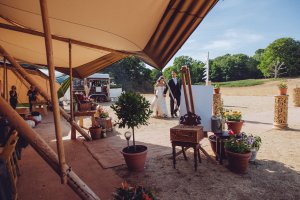 Catering
Instagram: @honeyandbluegrazing
Website: www.honeyandblue.co.uk
We don't just do graze boxes, we have everything for the whole family, from movie tray to graze platters we can cater for everyone and all occasions, our boxes can be used for gifts, party favours, baby showers or even just a picnic in the park. From ordering to delivering to your door were always friendly & pride ourselves in good customer relationships and service.
Tel: 07718611123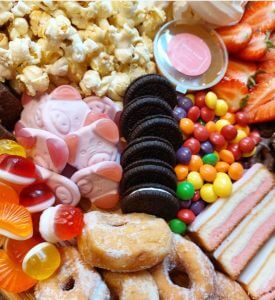 Instagram: @Nevaeh-graze
Facebook: www.facebook.com/nevaehgraze
Website: www.nevaeh-graze.co.uk
Email: orders@nevaeh-graze.co.uk
Instagram: @grazemefood
Website: www.grazeme.co.uk
Music & DJ's
Email: hello@sessioneventhire.co.uk
Instagram: @sessionmusicuk
Website: www.sessioneventhire.co.uk
Instagram: @rvsounds
Website: www.rvsounds.com
Hot Tubs
Instagram: @backyardbubbles
Website: www.backyardbubbles.co.uk
Instagram: @surreybubbles
Website: www.surreybubbles.com
Balloons
Floating Fancies Balloons & Event Decor
Instagram: @floating.fancies