â
"What are the most popular Welcome Drinks?"
This is the most common question we hear from newley engaged Couples looking to book us for their big day!
It is highly suggested that Welcome Drinks set the tone for the day for any wedding, Offering the opportunity to not only spoil your guests with a complimentary drink, but also providing that WOW factor to start the celebrations!
In 2022 & 2023 we have seen a huge rise in the amount of Couples wanting to create a more luxury approach to the Welcome Drinks. Our Couples are often now opting for a selection of Signature Cocktails, Mocktails, Some bubbles and Icy cool beers rather than just one option of a glass of bubbly. Our Couples are also allocating more time for the Welcome Drink & Canapes section of the day (sometimes up to 3 hours) and they are also allocating between 2-3 drinks per guest for this section of the day, generally, to keep everyone refreshed.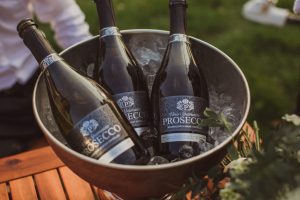 That having been said…before our Couples decide on their options we try and encourage them to have a good think about their wedding day before they just go for "what's popular" as what might be right for one person might not be the right choice for another!
As Expert Bartenders we work alongside our Couples to ensure they choose the perfect options for their day often creating tailored quotes to suit their requirements; however we can provide you with our most popular wedding drink packages to see if they might work for you!
Here are a few things to take into consideration when deciding on your Welcome Drinks:
Your Guest List
Who have you invited? What sorts of things do these people like to drink? What age range do you have? Are there many non-drinkers? Do you have any children?
These are really important questions to ask yourself (or I would ask on a call with a Client!) when deciding on drinks. If you have a lot of non-drinkers it may be worth considering a non-alcoholic option with your welcome drinks to accommodate for them.  Do you have a lot of people who perhaps aren't fans of bubbles? Would icy cool beers go down better? Do you have any children on the guest list? Would a soft drink be required?
Your Budget
As a Husband and Wife run business, we know single handedly how important budget is! We understand you want the best possible options to treat your guests to and that is why we work with you to access which options would work out more budget friendly. For example; Pimms is a very popular summer time cocktail which is best made in batch and is therefore a far more budget friendly option than individually made Pornstar Martini's.
If you decide on cocktails for your welcome drinks, you may want to consider providing a ratio of something like prosecco or beers in addition to these…again these are far more budget friendly and add a bit of variety to what is on offer for the guests whilst still incorporating that WOW factor with the cocktails for those who will really LOVE and appreciate a cocktail!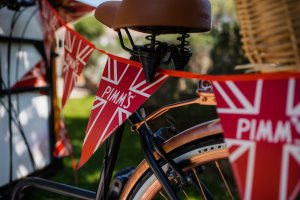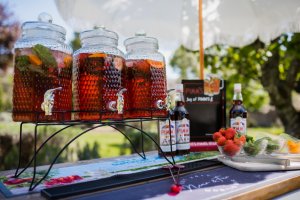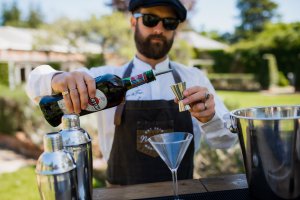 The Season
Welcome drink options often change depending on the time of the year you are getting married. A summertime Pimm's or fresh mint Mojito are great options for Spring/Summer but come Autumn/Winter you might want to consider something more warming, for example mulled wine, mulled cider or even a spiced rum based cocktail or wintery gin-based cocktail.
The Theme/Vibe of Your Wedding
Welcome drinks are a lovely way to compliment the overall theme of your day! Having an Italian spin to your day? Limoncello Spritz's or Aperol Spritz are a huge hit! Or perhaps you wedding is more English garden / rustic? A quintessential G&T always goes down a storm.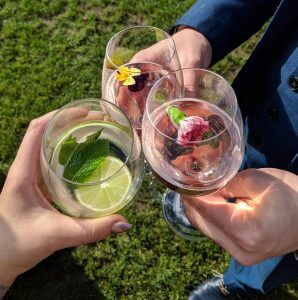 Ultimately whatever options you choose we will help you guide you to make the right decisions for your day. We are experts at running the whole day's proceedings for drinks for weddings and we will support you in the process and make it as straight forward as possible!
Want to discuss your options in more detail with us or request a copy of our drink packages? Simply contact us and we will be in touch to discuss your big day in more detail!
Lissie x